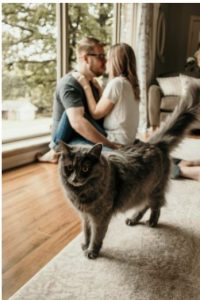 Getting a pet while in a relationship reveals a lot of things from you and your partner. Being in a relationship means being responsible for one another. However adding a new life is a total different thing. 
An additional life to your relationship could bring the best and worst in you. Deciding to be a fur mom and dad requires a lot of responsibilities. It is almost the same like having your own kid or child.
Some partners decide to get a cat or a dog, not totally to test the relationship or their partners, but to at least know how their partners will react on whatever their cat or dog do. Through this, the character or personality of their partners will be shown and they will be able to adjust in certain situations.
Having a pet will teach a couple to be considerate enough. Since the focus of the relationship will not just revolve around the two of you, you and your partner will learn how to be flexible and think not only for your welfare but also for the welfare of your pet.
Pets also demand attention. As a couple, you will need to manage your time which is very important in a household. As mentioned above, Having a pet is almost the same like having your own kid that requires childish needs. Make time to play with your pet, through this you will also have some unique time with your partner.
Not all the time having pets reflect what kind of partner or parent you will be. It will be really hard to judge your partner by just having or taking care of a pet. What's necessary is for both of you to adapt and understand each other all the time.