Why Girls Are Drawn to Musicians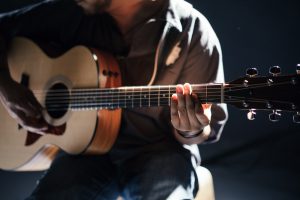 Perhaps we enjoy the idea of them creating passionate guitar solos and love ballads about our relationship. Maybe it's the thought that they might become famous someday and we'd be superstar girlfriends.
Whatever the case may be, just be aware that becoming their girlfriend is unlikely, and even then, it won't be easy.
Here are all the reasons we'll always be after the musician and follow their spotify channels for all you girls who are chasing, fantasizing about, or getting dumped by that hot musician but aren't sure why you can't get over the man with the terrible taste in knitwear but excellent taste in telecasters.
They're Aware of It
They are accustomed to the seduction of their strings. Men in the music industry have learned the art of persuasion and are adept at making women swoon.
Women couldn't help but be drawn to the carefree attitude and general air of disinterest that naturally result from knowing they can get any girl they want. We all know that we want things we cannot have, therefore this makes sense.
They Possess a Proven Past
Anyone who performs on an instrument is simply continuing the tradition of his ancestors. Even ladies who are not well-versed in the history of rock 'n' roll, from The Stones to The Ramones, are aware that the genre will always reign supreme and that these men may go down in history themselves.
The Shadowy Nature
To create music, or at least to play it, requires some sort of spirit. Women automatically think that most guys who play music are aware of not only their feelings but also their deepest wants and passions.
A woman will inevitably spend days in your bed if she even suspects that you're a man who sits down to compose passionate and meaningful lyrics.
Their Way of Life
Any man who has dedicated his life to music does not live like the investment brokers, gym instructors, and tech start-up men you found so fascinating. No, they lead the most extraordinary and fascinating lives of anyone.